WHAT IS STEAM AUDIT
Study the present process in details
 Based upon our observation and client interaction, find out the industry standard with respect to Steam/energy Consumption.
Minutely study the process with respect to:-
 Sizing & Selection
 3.1.Types of Valves & Traps used and to be recommended
 3.2.Temperature & Pressure profile at various critical locations.
3.3.Physical measurement of the condensate discharge
3.4.Study & explore the various condensate and Flash Steam Recovery Options
WHY ENERGY AUDIT IS REQUIRED
Many times due to production load we ignore our steam consumption patterns.
Industry standards with respect to steam consumption keeps changing, it is imperative that we always keep one step ahead.
 To know exact cost of production and related  Steam Consumption.
Rejections due to non – uniform heating and its effects.
To know the exact relation between the production and steam consumption
To find out and improve upon the flash steam and condensate recovery system.
Steam Generation
Steam Distribution
Steam Utilization
Condensate Recovery
BENEFITS
Exploration of maximum energy savings.
 Study on how to enhance process efficiency by decreasing process downtime
Failure analysis of particular steam component of plant and root cause analysis system.
 Involvement of plant team from utility, process for awareness of energy conservation in steam engineering
 Energy savings subjected to implementation of recommendations in energy audit report.
TRAP STUDY
Performance evaluation of existing trapping system with respect to process.
Identification and tagging of eac  h trap.
Quantification of steam loss
CONDENSATE AND FLASH STEAM RECOVERY
Study of present Condensate Recovery system.
Quantification of maximum possible recovery of condensate and flash steam.
Identification for the potential for the flash steam generation and Utilization
METHODOLOGY EMPLOYED
We deploy the experienced and expert team with:-
 Thermal Imagining Camera
Fuel Gas Analyzer
Compound Pressure Gauge
TDS Meter
PH Meter/Strips
Temperature Gun
CLIENTS FOR STEAM AUDIT
GOODYEAR
HALDIRAM
OCCL
SARIA IND (first Rice Mill In Haryana), etc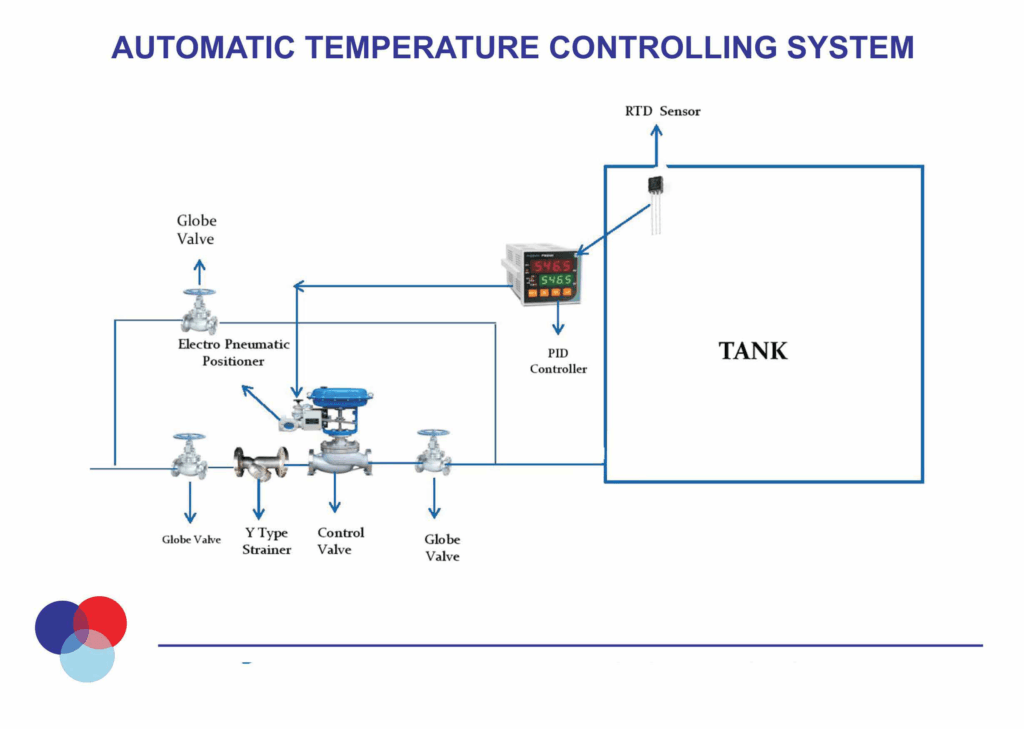 Automatic Temperature Controlling Systems (ATCS)
Perfect Engineering Services manufactures Automatic Temperature Controlling Systems that are designed to regulate temperature in industrial processes. These systems are equipped with advanced features such as PID temperature control, multiple input/output options, and easy-to-use touch screens, making them highly efficient and user-friendly. They are also designed to provide accurate and reliable temperature control, ensuring that processes are run at optimal temperatures, which can improve product quality and reduce waste.
These systems can be customized to meet the specific requirements of different industrial processes, and are available in a range of sizes and configurations. Additionally, Perfect Engineering Services provides comprehensive technical support and training, ensuring that customers can easily integrate and use these systems in their processes.
The Automatic Temperature Controlling Systems offered by Perfect Engineering Services are an excellent choice for companies looking for high-quality, reliable temperature control solutions that are both cost-effective and easy to use. With a strong commitment to customer satisfaction and a track record of delivering exceptional products and services, Perfect Engineering Services is a trusted supplier of industrial process control solutions.
Pressure Reducing Station (PRS)
Perfect Engineering Services offers a highly efficient and reliable Pressure Reducing Station for Steam (with IBR approval and certification), a completely assembled unit that is sized and selected based on the customer's specific requirements for flow rate, pressure, temperature, and other factors. The system is designed to regulate steam pressure and maintain optimal levels, ensuring efficient and cost-effective operation of steam-based equipment and systems.
The pressure reducing station is a crucial component of steam distribution systems, and Perfect Engineering Services' system is designed to deliver consistent, accurate, and reliable performance over an extended period. The unit is assembled with high-quality industrial valves and fittings, which are tested to meet or exceed the industry standards for quality, durability, and reliability.
The system is designed to offer ease of installation, operation, and maintenance, with a user-friendly interface that enables quick and easy adjustment of the pressure settings. Perfect Engineering Services' team of experienced professionals provides comprehensive support and service, ensuring that the system performs optimally and meets the customer's expectations.
The pressure reducing station for steam is an essential tool for many industries, including manufacturing, energy, and healthcare. Perfect Engineering Services' product offers a comprehensive and cost-effective solution to meet the unique needs of each customer, delivering reliable and efficient performance, minimizing downtime, and reducing overall energy costs.
| Specs | Dimensions |
| --- | --- |
| Size | 25NB x 50NB x 250NB x 350NB |
| Pressure Range | 150psi - 450psi |
| Pressure Rating | Class 150, 300, 600, BS 10 Table H, etc. |
| Material | Cast Steel & Alloy Steel |